Earlier this year, we showed you some of the best deck boxes for storing your MTG cards. But what happens when you have too many decks to carry around or don't want to throw them in your bookbag? You need a card storage case for your Magic cards.
Fear not.
Today, we'll cover eight of the best MTG card storage case options that you can get right now. We have something for everyone, whether you're toting around graded Power or are bringing a selection of Commander decks for FNM.
Without, further ado, let's look at the best card storage cases.
Disclaimer: This article contains affiliate links. We'll get a small commission that helps support the site if you click through and buy any of the products listed. Cheers!
Best for Bulk Storage: BCW Cardboard Row Boxes
If you've ever stepped into a local game store, you've definitely seen rows and rows of these boxes lying around. That's for good reason. They are a cheap and easy way to store tons of bulk cards without taking up too much room.
The cardboard box is divided into five rows, giving you plenty of room to organize and sort your cards (Hint: one row per color). These boxes come in many different sizes and configurations, but the original holds up to 1000 unsleeved cards. The lid lets you stack several of them on a shelf without taking up space.
You probably don't want to use this for storing your prized staples, but it is perfect for storing things like bulk rares, tokens, and random draft chaff.
Best for Events and Conventions: Enhance MTG Backpack Case
If you've ever taken your decks to a major convention or MTG event, you know that hauling them around can be a pain. Most bags that are comfortable to carry just aren't designed to hold clunky deck boxes.
The Enhance MTG Backpack Case is different.
It is specifically designed to carry MTG deck boxes while also being comfortable to carry. You can fit up to 7,620 sleeved cards in this bag as well as their boxes. Padded card dividers mean you can bring decks in boxes as well as loose cards without fear of them being damaged.
Meanwhile, the card defender screen locks them into place when you zip up the bag and throw it on your back.
There is also plenty of room for accessories, including a dedicated pocket for your playmat on one side and a binder pocket on the inner flap.
If you ever need to carry lots of decks at once and want to be comfortable, do yourself a favor and get this case.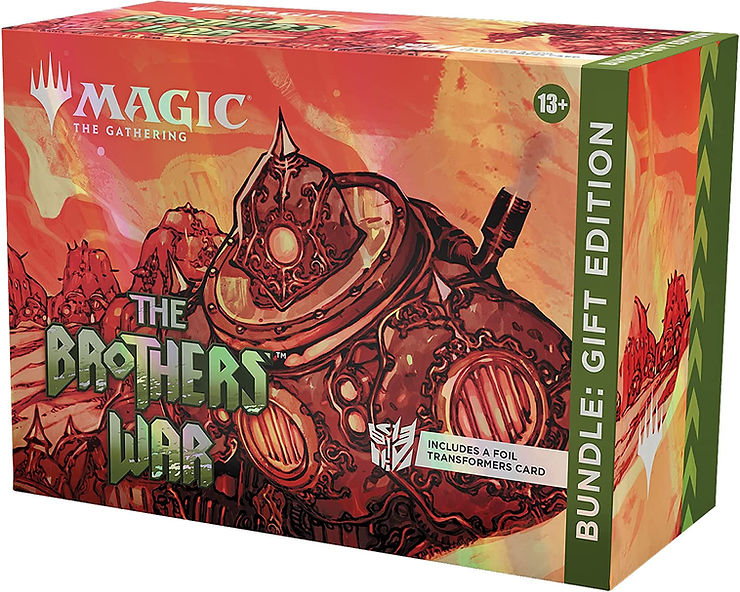 Best for the Pack Opener: Bundle Boxes
If you're a fiend for opening packs, you've probably cracked several bundles (formerly fat packs) in your day. But once you get the goods out, those boxes are actually perfect for storing cards. Better yet, if you're buying a bundle for the packs, the case is basically free.
If you want to make your collection on the shelf look even better, go for the gift edition bundles. They usually come with a shiny box and special art that truly pops.
Psst… did you know you can already pre-order a gift edition bundle for The Brothers' War? Yep, you can get in on all the artifact automaton goodness and store your cards like a pro.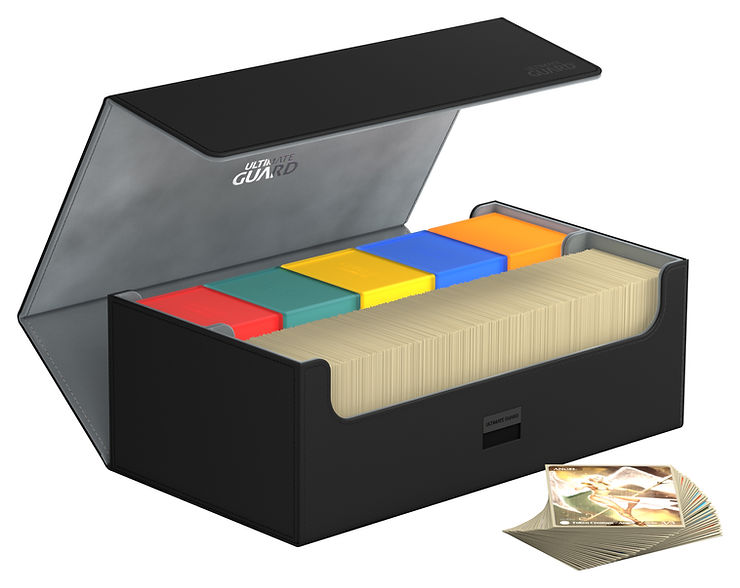 Best for Fans of High Quality: Ultimate Guard Arkhive 800+
If you are looking for an MTG card case of the highest quality, Ultimate Guard has you covered. Its Arkhive 800+ brings everything you love about its lineup of Xenoskin deck boxes and makes it even bigger.
The Arkhive 800+ is designed to hold up to 800 double-sleeved cards or 1000 single-sleeved cards. It is also wide enough to store deck boxes neatly in a row alongside your sleeved singles.
This is a perfect way to consolidate some of your collection without sacrificing quality. The Arkhive 800+ features Ultimate Guard's Xenoskin material, which is both durable and luxurious. The case has a strong magnetic closure on the front so you'll never need to worry about your cards or decks falling out.
Best for Shoulder Carrying: Pirate Lab MTG Card Storage Case
If a backpack isn't your style, Pirate Lab has you covered. This card storage case is similar to the Enhance backpack but features a single padded shoulder strap.
Inside, you can fit up to 18 deck boxes depending on their size. There are three rows with foam dividers that allow you to customize the interior to your liking. The foam organizer tray is also removable in case you want to just jam boxes in.
Meanwhile, the bag itself features plenty of room for accessories and is made of water-resistant fabric. It's the perfect way to bring your collection with you and carry it with ease.
Best for Following the Prof's Advice: Stanley 10 Compartment Organizer
A while back, The Professor of Tolarian Community College fame put out a review of a Stanley tool organizer. Yes, strange at first glance. However, it turns out that this organizer is perfect for more than tools. It holds MTG decks beautifully.
The 10-compartment box is almost perfectly designed for holding cards. It makes us wonder if someone over in the Stanley design room might be an… Agent of Treachery.
The box features a hard plastic shell that will keep your cards safe and secure when you're on the go. There is also a convenient carrying handle with a padded rubber grip. The lid itself locks into place when shut so you'll never have to worry about cards spilling out.
If you're looking for a nice case on a budget and don't mind (or maybe you want) the toolbox look, you can't go wrong. Thanks, Prof.
Best for Power Players: Case Club Graded Card Case
Do you have a stack of graded slabs that you don't know how to store? This is the case for you. It is perfectly designed to hold graded slabs, 84 of them to be exact. It is compatible with slabs from all major grading services, including PSA, Beckett, HGA, ISA, and GMA.
Moveable foam dividers let you rearrange the inside of the case to make room for the most precious pieces of your collection. Better yet, that foam is non-abrasive and designed to avoid scratching or scuffing your slabs.
If you need to travel with your graded cards, are bringing them to a convention, or just need a way to keep them contained at home, look no further than this case.
Best for Cube Fans: Original Quiver Time Card Case
Finding a safe way to transport your cube can be a challenge. This case may be more of a rectangle than a cube, but it is perfect for the format.
It features a soft interior with padded corners to keep your cards safe. Speaking of, it holds 750 single-sleeved cards or 600 double-sleeved cards, which is big enough for even the largest of cubes. You'll also find several dividers and your choice of a hand or shoulder carrying strap.
The case is made with high-quality PU leather on the outside, which offers both durability and water resistance.
If all that isn't enough, Quiver Time also donates a portion of its profits to orphaned children's education. Case with a purpose. That's what we're talking about.
That wraps up our list of the best MTG card cases! Which one are you going to get to protect and store your collection? Let us know in the comments below or on social media.
---
❤️If you want to support Bolt the Bird, consider checking out our Patreon page and sharing this article! ❤️