Anyone who takes Magic seriously knows having the right playmat can make all the difference in your gameplay experience. Whether you're a seasoned pro or new to the game, finding the perfect playmat is an important step in preparing for your next match. The best MTG playmats protect your cards, express your personality, and keep you organized.
But with so many options out there, it can be overwhelming to figure out which playmat is the best fit for you. That's where we come in!
In this article, we'll help you navigate the world of Magic: The Gathering playmats so you can make an informed decision about which one is right for you. We'll cover factors to consider, top brands, and popular styles, so you can find the playmat that fits your needs and enhances your gameplay.
Whether you're looking for a playmat with stunning artwork or one that's functional and durable, we've got you covered.
Disclaimer: This article contains affiliate links. We'll get a small commission that helps support the site if you click through and buy any of the products listed. Cheers!
Things to Consider When Choosing a MTG Playmat
When it comes to choosing a playmat, there are a few key factors to consider. After all, no two playmats are the same. Depending on your budget and preferences, you'll have to determine which factors are most important to you. Here are some things to keep in mind:
Durability
When you're playing Magic, you want a playmat that can withstand regular use and handling. Look for playmats made of materials that are sturdy and resistant to wear and tear. Most playmats are made from materials like neoprene, rubber, and PVC.
Size
The size of the playmat is important, both in terms of the size of your play space and the size of your card sleeves. Make sure to measure the area where you'll be using the playmat to ensure it will fit comfortably. Playmats come in many different sizes, though the most common size is 24″ x 14″. This is the size of all official MTG playmats produced by Ultra Pro.
Artwork
One of the fun things about MTG playmats is they come in a wide variety of artwork styles. Whether you prefer abstract designs, detailed landscapes, or themed art, there's a playmat out there to meet your personal tastes. Take some time to browse different options and find a playmat with artwork that you enjoy and that enhances your play experience.
Customization
Some companies that make playmats offer the ability to customize the artwork or add personal touches. If you want to create a playmat that's truly your own, look for options that allow you to add your own designs or images. This can be a great way to make your playmat truly unique and add a personal touch to your gaming setup.
Best MTG Playmat Brands
When it comes to MTG playmats, there are a few top brands that stand out from the rest. While Ultra Pro is the only company with a license to make official playmats featuring art from actual cards, there are plenty of options. You can look for playmats from a large brand or a small creator.
Here's a look at some of the most popular options:
Ultra Pro
Ultra Pro is a well-known brand and creates a wide variety of playmats and other accessories for Magic: The Gathering. Their playmats come in a range of sizes, from small to extra large, and feature stunning artwork. As noted, many of Ultra Pro's playmats feature official art from the game. If you've got a favorite card, or want your playmat to match your latest Commander deck, this is the way to go.
Ultra Pro playmats are made from durable neoprene and have a non-slip bottom to help keep them in place during gameplay.
Inked Gaming
Inked Gaming is a popular brand known for its high-quality, customizable playmats. They offer a wide range of designs to choose from, as well as the ability to add your own artwork or images to create a completely unique playmat.
Want a playmat with your face on it? How about one with your pet? Got a sick piece of art you created and want to show the world? No problem.
Dragon Shield
Better known for their card sleeves, Dragon Shield also makes some high-quality playmats. They typically feature art with dragons (no surprise) and new releases often accompany holidays with special themes. Dragon Shield's Halloween and Christmas playmats are always a hit.
Most Dragon Shield playmats are limited edition, so you'll have to snag them when you see that they are available.
Popular MTG Playmat Styles
There are a ton of MTG playmat styles to choose from. Matching one to your personality, playstyle, or deck should be a breeze.
A few of the most popular styles include:
Artistic: Featuring stunning, detailed artwork, playmats are often works of art in their own right. Artistic playmats can be used as a decorative piece as well as a gaming surface, and they're a great way to add a touch of style to your gaming setup.
Basic: If you're looking for a more functional, no-frills playmat, you might consider a basic playmat. These playmats are typically simpler in design, with minimal artwork or a plain color scheme. Basic playmats are good for everyday use and can be a good choice if you're looking for something functional and affordable.
Themed: If you're a fan of a particular Magic: The Gathering set or theme, you might consider a themed playmat. These playmats feature artwork that ties into a specific set or theme, such as a specific plane or character.
Beginner: If you're new to the game, a beginner playmat can help you stay organized. They feature "zones" printed on the mat, telling you where to put your lands, creatures, graveyard, commander, etc.
Best MTG Playmats for 2023
Finding the perfect playmat is a matter of preference. However, here are a few of our favorites that we think you'll enjoy too. These playmats are high-quality, durable, and feature some amazing artwork.
Best for Art Lovers
If you're looking for some stunning art, search no more. Inked Gaming offers a terrific lineup of playmats featuring art from famous creators and individual artists alike.
We can't get over this one, featuring the art of Michael Whelan from Brandon Sanderson's bestseller "The Way of Kings."
If you're more of a gothic fan, this Vampire Castle mat is a great choice.
Check out Inked Gaming's full lineup of playmats here.
Best for Everyday Play
If you're balling on a budget or just like a clean battlefield, Ultra Pro has a lineup of solid-color playmats that might be appealing. These mats feature the same high-quality materials as the company's other products, but come at a much lower cost than those with artwork.
These are great playmats for everyday use or to lend a friend when you're introducing them to the game.
Check out Ultra Pro's Solid Color playmats here.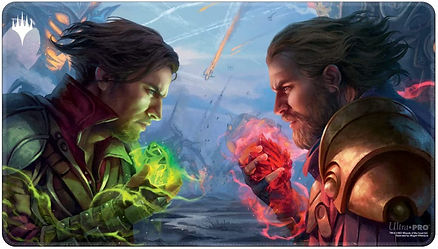 Best for the Vorthos Mage
If you're a fan of lore and characters, Ultra Pro has you covered. Featuring officially licensed art from MTG, these playmats will look very familiar.
They are released with every set as well as select Secret Lair drops and promotional releases. If you've got a favorite character, there's a decent chance Ultra Pro has a playmat with them on it.
Check out the full Ultra Pro Art playmat lineup here.
Best for Beginners
If you're new to the game, or know someone who is, this playmat is a great introduction. It features separate zones to keep your cards in during the game so your battlefield stays organized.
It also features reminders of the turn stages from untap to end step. With high-quality stitched edging and premium rubber, it's very durable. You also get a free playmat carrying case when you buy it.
Check out the Mat Board Games Beginner playmat here.
Best for Customization
Once again, Inked Gaming makes our list. It's the best place to get a custom playmat with your artwork. Whether you want to show off your gaming brand at a big tournament or want your face to strike fear into your opponents at FNM, you're covered.
All you have to do is upload your artwork using Inked Gaming's template and you're off. You can create your playmat in several different sizes and have the option to include stitched edges for extra durability.
Make your own custom playmat with Inked Gaming here.
---
❤️If you want to support Bolt the Bird, consider checking out our Patreon page and sharing this article! ❤️